SE Series Between-Bearings Single-/Two-Stage Double Flow Axially Split Pumps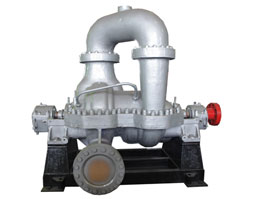 Applications: To be installed in main plants for hot water circulation in the heating circuit systems within a whole district.
Design: ASE series pump units consist of a centrifugal pump, an induction motor, a drive coupling, a coupling guard and a fabricated base plate.
The pump units shall be rigidly anchored to the foundation, and piping shall be rigidly connected to the pumps.
The pump are electrically driven horizontal single stage or two-stage (SE 800-100-11 and SE 1250-140-11) axially split volute casing centrifugal pumps with one or two (in case of two-stage pumps) double entry radial impellers. The stages are communicated with interstage crossover. Semicentreline casing support for accurate alignment.
The pump rotor is carried by the oil-ring or pressure lubricated plain or antifriction bearings with oil bath.
Pump shaft sealing is by means of packed glands.
Sense of rotation of pump shaft is clockwise or counterclockwise (in case of SE 500-70-16-S and SE 800-55-11-S), if viewed from the drive side:
| | | |
| --- | --- | --- |
| DN | mm | 252, 303, 325, 377 |
| Q | m3/h | 1440 |
| H | m | 116 |
| p | kg/cm2 | 11 |
| t | oС | +180 |
| n (sync) | rpm | 1500, 3000 |
Coverage chart of the SE Series Pumps: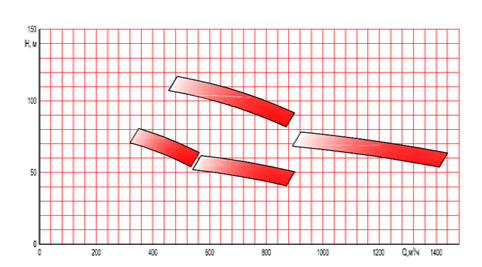 Performance of the SE Series Pumps:
Pump make

Pump parameters

Capacity, m3/h
Head, m
Speed of rotation, rpm

Мощность,

кВт

(r=888 kg/m3)

Power input (r=907 kg/m3), kW
Efficiency, %
NPSH required, m

SE 1250-140-11-S UKhL4

SE 1250-140-11-Т UKhL4

1250

140

1500

510

575

83

7,5

SE 1250-70-11-S UKhL4

SE 1250-70-11-Т UKhL4

1250

70

1500

255

288

83

7,5

SE 800-100-11-S UKhL4

SE 800-100-11-Т UKhL4

800

100

1500

242

273

80

5,5

SE 800-55-11-S UKhL4

SE 800-55-11-Т UKhL4

800

55

1500

131

148

81

5,5

SE 500-70-16-S  UKhL4

SE 500-70-16-Т UKhL4

500

70

3000

103

116

82

10
Handled Media: