NK Series End Suction Pumps with Overhung Impeller(s) and
NKV Series Inducer End Suction Pumps with Overhung Impeller(s)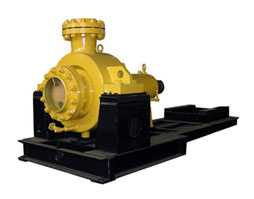 Applications: Designed for handling volatile flammable and inflammable liquids at the process plants in the oil-refining industry. May also be used for handling water.
Design:ANK and ANKV series pump units consist of a centrifugal pump and an induction motor in the explosion-proof version, which are mounted on a common base plate.
The pump and motor shafts are connected by means of a diaphragm flexible coupling. The pump units shall be rigidly anchored to the foundation, and piping shall be also rigidly connected to the pumps.
The pumps as components of the pump units are electrically driven horizontal, end-suction, centreline-supported, back pull-out, single- or two-stage centrifugal pumps with overhung impeller(s). Suction nozzle is axially horizontal and discharge nozzle is radially to the top. Counter flanges have a weld neck.
Pump shaft sealing is by mechanical seals in tandem arrangement, which utilizes a pressurized barrier fluid, neutral to handled medium.
The pump design provides for cooling the mechanical seal chamber (heat barrier) with cooling liquid supplied. In case of using the pumps for handling liquids with a temperature below 90°Ñ, cooling liquid inlet/outlet holes shall be plugged.
The pump rotor is carried by the oil-bath lubricated antifriction bearings. Inner space of the bearing bracket serves as their oil sump. The design provides for its cooling with liquid supplied into a special chamber of the bearing bracket.
Sense of rotation of pump shaft is shown with a rotation arrow attached to the bearing bracket.
The motor pump units shall be controlled by a process monitoring, control, warning/alarm and emergency trip system as required in PB 09-540-03.
| | | | |
| --- | --- | --- | --- |
| DN | mm | 47 - 254 | 47 - 254 |
| Q | m3/h | 680 | 680 |
| H | m | 187 | 388 |
| p | kg/cm2 | 12 | 12 |
| t | oÑ | +120 | +120  -  +360 |
| n (sync) | rpm | 1500, 3000 | 1500, 3000 |
Coverage chart of the NK and NKV Series Pumps: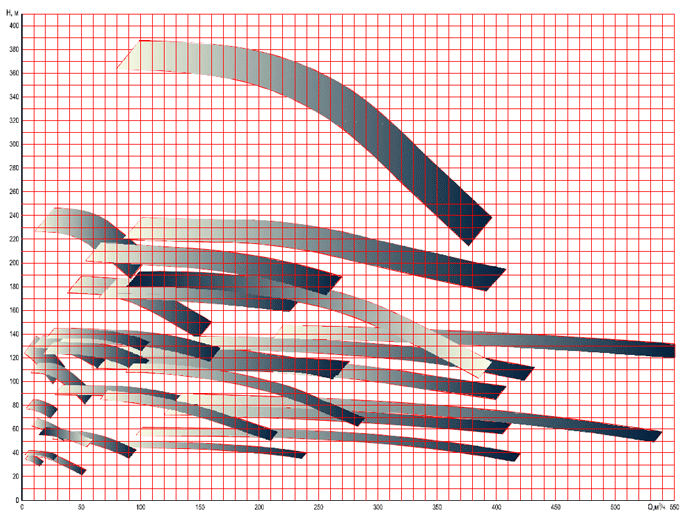 Handled Media:
ÍÊ, NKV XX-XX Y2 - Refined products up to 120oÑ
ÍÊ, NKV XX-XX-H Y2 - Refined products  120oÑ to 360oÑ
Performance of the NK and NKV Series Pumps:
Pump make
Pump parameters
Capacity, m3/h
Head, m
Speed of rotation, rpm
Power input (r=1000 kg/m3), kW
Efficiency, %
NPSH required, m
NK 15-35 Ó2
NK 15-35-Ã Ó2

15

35

2955

3

47

3.2

NKV 25-80 Ó2
NKV 25-80-H Y2

25

80

2955

9.1

60

2.3

NK 30-60 Ó2
NK 30-60-H Y2

30

60

2955

8.9

55

5.5

NK 30-120 Ó2
NK 30-120-H Y2

30

120

2934

17.8

55

5.5

NKV 50-55 Ó2
NKV 50-55-H Y2

50

55

2886

11.7

64

2.3

NKV 80-50 Ó2
NKV 80-50-H Y2

80

50

2940

15.6

70

2.4

NK 80-125 Ó2
NK 80-125-H Y2

80

125

1485

57.9

47

6

NKV 200-45 Ó2
NKV 200-45-H Y2

200

45

1480

34

72

2.5

NKV 200-180 Ó2
NKV 200-180-H Y2

200

180

2964

140.1

70

4.5

NKV 125-170 Ó2
NKV 125-170-H Y2

125

170

2975

85.1

72

4

NKV 180-70 Ó2
NKV 180-70-H Y2

180

70

2943

47.7

72

4

NKV 225-120 Ó2
NKV 225-120-H Y2

225

120

2964

95.5

77

4.5

NK 225-120 Ó2
NK 225-120-H Y2

225

120

2964

95.5

77

9

NKV 240-90 Ó2
NKV 240-90-H Y2

240

90

2975

76.4

76

4.5

NK 340-80 Ó2
NK 340-80-H Y2

340

80

1480

108.9

68

5

NKV 360-125 Ó2
NKV 360-125-H Y2

360

125

1479

164

75

2.3

NKV 550-130 Ó2
NKV 550-130-H Y2

550

550

1483

267

73

3

NKV 25-40-H Y2

25

40

2901

4.5

60

1.6

NKV 30-60-H Y2

60

60

2955

8.9

55

4.1

NKV 30-120-H Y2

30

120

2961

17.8

55

4.1

NKV 45-30-H Y2

45

30

2901

5.9

62

1.6

NKV 50-100-H Y2

50

100

2934

21.3

64

1.8

NKV 65-125-H Y2

65

125

2943

38.1

58

4

NKV 90-125-H Y2

90

125

2975

46.4

66

4

NKV 90-140-H Y2

90

140

2975

52.8

66

4

NKV 90-220-H Y2

90

220

2961

81.7

66

4

NKV 125-90-H Y2

125

90

2943

42.6

72

4

NKV 140-135-H Y2

140

135

2975

70.5

73

4

NKV 225-200-H Y2

225

200

2961

157.1

78

4

NKV 230-120-H Y2

330

120

2961

103

73

4.4

NKV 330-150-H Y2

330

150

2964

177.4

76

4

NKV 330-300-H Y2

330

300

2981

354.7

76

4

NKV 340-105-H Y2

340

105

2961

123.1

79

4.3

NKV 340-210-H Y2

340

210

2964

246.1

79

4.3

NKV 350-50-H Y2

350

50

1485

64

74.5

2

NKV 450-70-H Y2

450

70

2961

114.4

75

4