KO Series Centreline-Supported Top-Suction Single-Stage Pumps with Overhung Impeller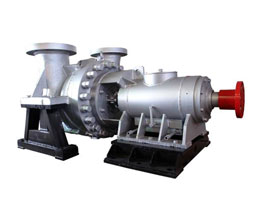 Applications: Designed for forced circulation of superheated boiler water within a closed-circuit systems in the exhaust-heat boilers. May be also used for handling liquids similar to the same in viscosity and chemical activity.
Design: KO series pump units consist of a centrifugal pump and an induction motor, which are connected by means of a rubber-bushed (pin-and-bushing) flexible coupling and mounted on a common fabricated base plate.
The pumps are electrically driven, horizontal, centreline-supported, back pull-out, radially-split, single stage volute-casing centrifugal pumps with overhung impeller and bearing pedestal.
Flanged suction and discharge nozzles integrally cast with the pump casing are vertically to the top.
A casing cover is provided with a thermal barrier chamber.
The pump rotor is carried by oil-bath lubricated antifriction bearings. Inner space of the bearing pedestal serves as their oil sump. The design provides for its cooling with liquid supplied into a special chamber of the bearing pedestal.
Shaft sealing: stuffing box (packed gland) fed with cooling and sealing liquid from an external source.
Sense of rotation of pump shaft is counterclockwise, if viewed from the drive side.
| | | |
| --- | --- | --- |
| DN | mm | 200, 250 |
| Q | m3/h | 722 |
| H | m | 100 |
| p | kg/cm2 | 51 |
| t | oС | +1  -  +260 |
| n (sync) | rpm | 1500 |
Coverage chart of the KO Series Pumps: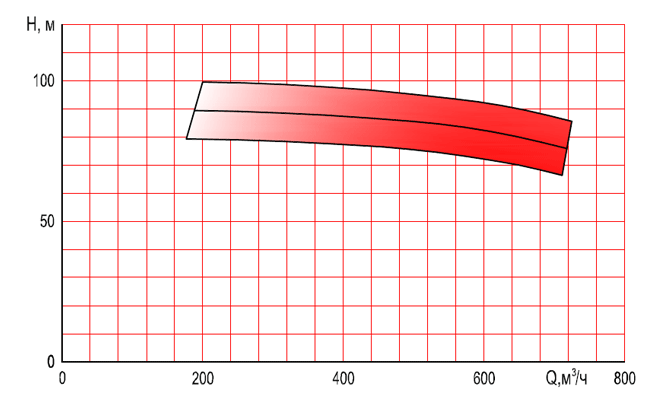 Performance of the KO Series Pumps:
Pump make

Pump parameters

Capacity, m3/h
Head, m
Speed of rotation, rpm
Power input (r=784 kg/m3), kW
Power input (r=907 kg/m3), kW
Efficiency, %
NPSH required, m

KO 650-90 UKhL4

650

90

1475

160

204

78

20

KO 650-80 UKhL4

650

80

1475

144

184

77

20

KO 650-70 UKhL4

500

70

1475

128

165

76

20

KO 500-75 UKhL4

500

75

1475

125

160

64

20
Handled Media:
- Water up 1 oС to 260 oС