PE Series Multistage Segmental Pumps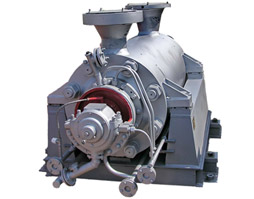 Applications: Designed for delivering treated water (feedwater) at the pumping temperature of up to 438К (165oС) into the fossil-fueled stationary boilers with absolute steam pressure of maximum 13.7 MPa (140 kgf/cm2).
Design: APE series pump units consist of a centrifugal pump and an induction motor, which are mounted on a common fabricated base plate. In case of АПЭ 150-63 and АПЭ 250 models the pump and motor are mounted on separate base plates. The pump and motor shafts are connected by means of a rubber-bushed (pin-and-bushing) flexible coupling enclosed with a coupling guard.
The APE 270-150 and APE 250 pump unit models are equipped with a gear-type coupling and is furnished with a pressure lubrication installation to provide their coupling and bearings with lube oil.
The pump units shall be rigidly anchored to the foundation, and piping shall be also rigidly connected to the pumps.
The pumps are motor-driven horizontal, centreline-supported, between-bearings multistage ring-section centrifugal pumps with single flow impeller arrangement.
The pump casing comprises a suction casing, a delivery casing and a set of stage casings, which are concentrically aligned with respect to each other on rabbeted fits and are bolted together with tie bolts. Diffusers are built in the stage casings and delivery casing.
The suction and delivery casings have flanged suction and discharge pump nozzles respectively, which are oriented vertically to the top.
The rotor axial thrust is automatically balanced with a balance disc. In order to ensure a normal functioning of the balancing device, its chamber is to be communicated with the suction pipeline. A bearing end cover, fitted in the non-drive side bearing housing, has a shaft position indicator for sight control of the wear of balancing device surfaces and for restraining rotor axial displacements towards the delivery side.
The pump rotor is carried by the plain bearings with ring lubrication (with forced lubrication from a pressure lubrication installation for the pump PE 270-150).
The design of pump shaft seal chambers provides both for housing mechanical seals and for packing the stuffing boxes, which are to fed with cooling liquid.
Sense of rotation of shaft in all the pumps is counterclockwise (clockwise in case of PE 270-150), if viewed from the drive side.
| | | |
| --- | --- | --- |
| DN | mm | 100 - 300 |
| Q | m3/h | 320 |
| H | m | 2150 |
| p | kg/cm2 | 7, 10 |
| t | oС | +165 |
| n (sync) | rpm | 3000 |
Coverage chart of the PE Series Pumps: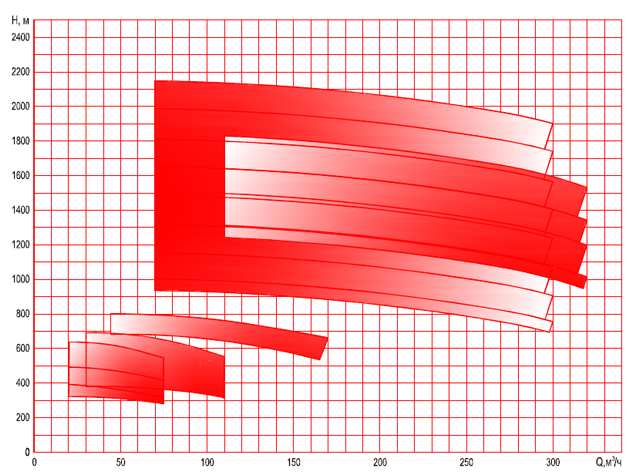 Performance of the PE Series Pumps:
Pump make

Pump parameters

Capacity, m3/h
Head, m
Speed of rotation, rpm

Мощность,

кВт

(r=902,4 kg/m3)

Power input (r=907 kg/m3), kW
Efficiency, %
NPSH required, m

PE 65-28-S UKhL4

PE 65-28-Т UKhL4

65

290

2960

70,2

77,8

66

4

PE 65-32-S UKhL4

PE 65-32-Т UKhL4

330

2960

80

88,6

PE 65-40-S UKhL4

PE 65-40-Т UKhL4

440

2960

106,6

118,1

PE 65-53-S UKhL4

PE 65-53-Т UKhL4

580

2975

140,5

155,6

PE 100-32-S UKhL4

PE 100-32-Т UKhL4

100

330

2970

119,3

132,2

68

PE 100-53-S UKhL4

PE 100-53-Т UKhL4

580

2980

206,7

229

69

PE 150-53-S UKhL4

PE 150-53-Т UKhL4

150

580

2970

301,3

333,9

71

5

PE 150-63-S UKhL4

PE 150-63-Т UKhL4

700

2970

363,7

403

PE 250-75 UKhL4

PE 250-75-S UKhL4

250

840

2979

707

783

73

11

PE 250-90 UKhL4

PE 250-90-S UKhL4

1005

2979

846

937

PE 250-105 UKhL4

PE 250-105-S UKhL4

1170

2973

985

1091

PE 250-120 UKhL4

PE 250-120-S UKhL4

1335

2973

1124

1245

PE 250-135 UKhL4

PE 250-135-S UKhL4

250

1500

2973

1262

1399

73

11

PE 250-150 UKhL4

PE 250-150-S UKhL4

1665

1401

1553

PE 250-165 UKhL4

PE 250-165-S UKhL4

1830

1540

1707

PE 250-180 UKhL4

PE 250-180-S UKhL4

1995

1679

1861

PE 270-110-3-S UKhL4

PE 270-110-3-Т UKhL4

270

115

1046

1159

PE 270-125-3-S UKhL4

PE 270-125-3-Т UKhL4

1320

1184

1312

74

PE 270-135-3-S UKhL4

PE 270-135-3-Т UKhL4

1480

1310

1452

75

PE 270-150-3-S UKhL4

PE 270-150-3-Т UKhL4

1650

1445

1601

76

PE 270-150-3М-S UKhL4

PE 270-150-3М-Т UKhL4
Handled Media:
- Feed water up to 165 oС