TsN Series Between-Bearings Double Flow Axially Split Pumps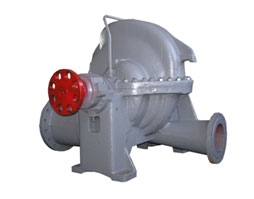 Applications: Designed for the supply of water to industrial plants and communities. They are used also for agricultural land irrigation and drainage.
Design: ATsN series pump units consist of a centrifugal pump, an induction motor, a rubber-bushed flexible coupling with a coupling guard, which are mounted on a common fabricated base plate. Pump units of the make ATsN 1000-180-Ñ are mounted direct on the foundation.
The pump units shall be rigidly anchored to the foundation, and piping shall be rigidly connected to the pumps.
The pumps are electrically driven horizontal, foot-mounted, single-stage, axially split volute casing centrifugal pumps with a double entry radial impeller. The pump casing is a locating part of the pumps, which incorporates a lower and an upper casing halves bolted together by means of studs.
The antifriction bearings are grease lubricated and the plain bearings are oil-ring lubricated ones.
Pump shaft sealing is by means of packed glands.
Sense of rotation of shaft in all the pumps is counterclockwise, if viewed from the drive side.
Upon the Customer's request, the pumps may be supplied with a rotor for reverse rotation.
| | | |
| --- | --- | --- |
| DN | mm | 200 - 350 |
| Q | m3/h | 1100 |
| H | m | 230 |
| p | kg/cm2 | 2.5 |
| t | oÑ | +1 - +100 |
| n (sync) | rpm | 1500 |
Coverage chart of the TsN Series Pumps: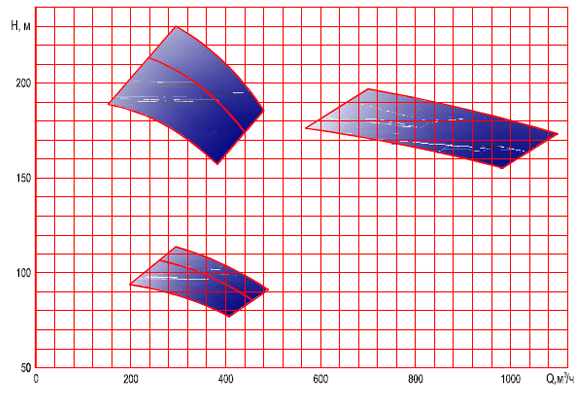 Performance of the TsN Series Pumps:
Pump make

Pump parameters

Capacity, m3/h
Head, m
Speed of rotation, rpm
Power input (r=959,3 kg/m3), kW
Power input (r=907 kg/m3), kW
Efficiency, %
NPSH required, m
TsN 400-105-Ñ ÓÕË4

400

105

1470

137

143

80

4,5

TsN 400-105à-Ñ ÓÕË4

380

96

1470

121

126

78

4,0

TsN 400-105á-Ñ ÓÕË4

360

83

1465

100

104

77

4,0

TsN 400-210-Ñ ÓÕË4

400

210

1465

278

290

79

4,5

TsN 400-210à-Ñ ÓÕË4

380

192

1475

245

255

77

4,0

TsN 400-210á-Ñ ÓÕË4

360

166

1475

201,5

210

76

4,0

TsN 1000-180-3-Ñ ÓÕË4

1000

180

1480

566

590

83

8,0

TsN 1000-180à-3-Ñ ÓÕË4

900

157

1480

456

475

81

8,0
Handled Media:
 - Water up 1 oÑ  to 100 oÑ